One week, in September 2008, something happened that really should not be able to happen: Tamara sneaked out of the door and never came back. It was on the day when Zoe's Maxi would move to her new home. Who knows, maybe Tamara tried to follow after her, they had become really good friends. Some days later we found her under some bushes near our house. We will never know what really happened. But we do know that we all miss her terribly! She was a very sweet girl. Always there to greet you, never aggressive. And, as with nice people, sometimes you find out that you never really noticed them until they leave a huge empty space when they are gone…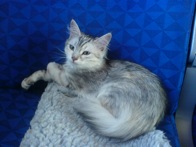 I have chosen to leave our presentation of her the way it was before, since that is the way we want to remember her:

The moment I saw the picture of the silverwhite Tamara and her littermates I was lost. But all kittens had already been booked, and Östersund is not close to Göteborg. I kept checking the homepage however, and one day it said that there had been a late cancellation for Tamara. It was holiday, and now nothing could stop me. Finding out that the plains did not take animal cargo during summer, I took the night train and came back with Tamara during daytime. (She really attracted a good deal of attention, leaning back on the train seat like a princess all day: picture). Tamara has a completely different character then Zoe. She has never followed a specific person in the house, but purrs loudly for everyone who pays her attention. She is also very playful, and behaves like a puppy: getting stuff (like studsbollar???, earplugs etc). Lately, she has even started to sneak around the house with sock-rolls, as if it is a prey she caught. And she really looks proud then.