For a while I had been following developments concerning "Neva cats" (Neva Masquerade), because I thought they were so beautiful. When Porla was born 2009 and I saw her pictures I was lost immediately. She is very cuddly, playful and pleasant. Although not really a "lap cat" (yet...).
Since she is fertile and Zoe a castrate it happens now and then that they want to make up about the "queen position", but normally they get along quite well. When she just arrived Zoe''s kittens were just some weeks younger and she managed to get some milk from Zoe!
In the picture below she shows her favorite toy, which she enjoys bringing back when you throw it down the stairs: shoe laces!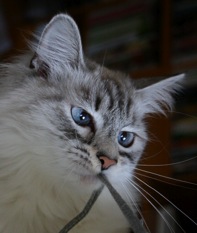 Thank you S*Älvnäs for this wonderful cat!

galleri
Porla had a date with Budderball 2012 and Snö, Gothenburg's first Neva kitten, was born!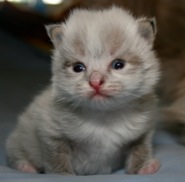 See under
litter 6
for more info and more
pictures