I am really kind of proud of Poenna, since she is the first of our own-bred cats to get a litter. Her mother is Zoe and her father Amadeus (see
here
). As her mother, she is rather determined, but has inherited enough after her very kind dad to be both handsome and kind. I hope to present her at a show one day in the future. She lives together with her brother with a wonderful family outside Göteborg, who call her Hera.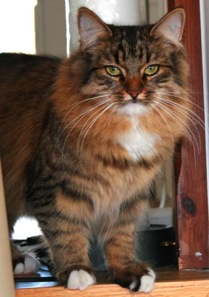 Poenna just got kittens (more information
here
), November 11th, 2010, and the kittens look very promising!

galleri